Chiropractic Testimonials

Alexander was having very severe fevers that would cause him to have seizures. His parents took him to many doctors from Sioux Falls to Omaha, but there were no answers as to why this was happening. They were ready to pack their bags and head to Mexico to get some answers. They came to Dr. Juan as a last resort. The Inside-Out Team evaluated him and found that he had severe nerve interference in the top portion of his neck.
After Alexander's very first specific chiropractic adjustment, his fever broke later that night, and he has not had any more fevers since starting care five months ago. His mother Sylvia also started care for her severe shoulder and back pain that she has been experiencing for many years and is seeing great results. She is able to keep up with her daily activities without any pain!
- Silvia (Mother)
---
Irritable Bowel Syndrome (IBS)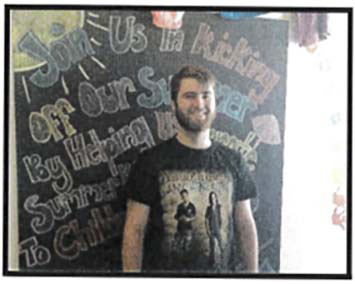 Ethan has been sick for many years, but it was not until recently that he learned how bad it truly was. He had very bad digestive problems which would cause him to pass blood for no reason.
His mother Heather took him to the Emergency Room many times for episodes of throwing up blood, but they could never figure out why this was happening.
Ethan tried many other doctors, but they only seemed to make things worse. He could not take any medications because of the negative effects they had on him. Ethan was excited to try chiropractic because he felt optimistic that it could help him.
After only three specific neurologically-focused chiropractic adjustments, he has not had any pain or been sick. He states "I continue to come and get even better with every visit." His mother is also under care for her shoulder she previously had surgery on it and is seeing great results!
"My mother and I are health nuts and try to live a chemical-free life as much as possible, and that is how we found Inside-Out Family Chiropractic! I was amazed at the work he was doing and seeing all that he has done for everyone. I would absolutely recommend chiropractic to anyone who is sick, suffering, or in pain."

- Ethan
---
Fewer Daily Medications
Ms. Kat has suffered from anxiety, PTSD, Depression, Incontinence, Brain Damage, Brain Fog, and the feeling of being unbalanced. She saw several neurologists and physical therapists, and instead of seeing results, she would receive another medication for her symptoms. She was taking as many as 10 medications daily.
After just two weeks of being under neurologically-based chiropractic care, Kat was reduced to just 2 medications. She is no longer foggy and has a normal balance. After being out of a job for more than 10 years she is happy to be going back to work and looking forward to getting married!
"Coming into the office, I didn't think chiropractic would work, because all my other doctors would just push pills that didn't help, so I was unsure. I realized Dr. Juan and Dr. Branden were helping more than the doctors in the past were. I highly recommend chiropractic care at Inside-Out. Everyone is kind and courteous, but most of all they care about your health and help you reach your health goals."

- Kat
---
Low Back Pain, Acid Reflux, And Seasonal Allergies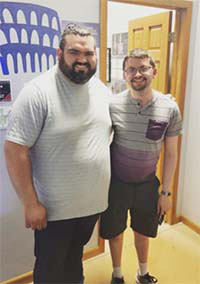 Jackson started care because he could not go through the day without low back discomfort. He had been dealing with this for years, but rather than seeking treatment he would push through the days in a "mind over matter" mindset. He finally reached a point where it was time to get some help and get to the bottom of his health concerns!
Since he started to care, he has been able to reduce the amount of acid blocker medication he takes daily, decreased his back pain, decreased his stomach pain, and made substantial improvements in his seasonal allergies!
Before coming to Inside-Out Family Chiropractic, he visited with another practice member and felt comfortable coming in because they found Dr. Juan to be both knowledgeable and courteous. Jackson knows many people that get adjusted, so he had no doubt that chiropractic would also work miracles for him. When asked if Jackson would recommend chiropractic care for others, he replied:
"Yes, for sure!"

- Jackson
---
Neck Pain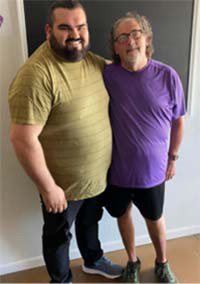 Before chiropractic, Dennis suffered from a neck fracture that resulted in permanent nerve damage. He received four different neck surgeries to repair the damage. He used many different pain medications to try to lessen the pain he dealt with on a daily basis.
Since coming to Inside-Out Family Chiropractic, Dennis has made some pretty significant strides toward healing his body and improving his health. He was able to stop taking all pain medications and able to completely stop taking his insulin!
Things Dennis loves about IOFC include:
Friendly and caring staff
The support he received while going through health problems.
Above all, Dennis felt as though he was in control of his health - something that has made this experience at Inside-Out Family Chiropractic truly different.
Monday
8:30am - 11:00am
2:00pm - 6:00pm
---
Tuesday
2:00pm - 6:00pm
---
Wednesday
8:30am - 11:00am
2:00pm - 5:00pm
---
Thursday
8:30am - 11:00am
2:00pm - 6:00pm
---
Friday
Closed
---
Saturday & Sunday
Closed